Flat Roofing Norwich Norfolk – Warnes Flat Roofing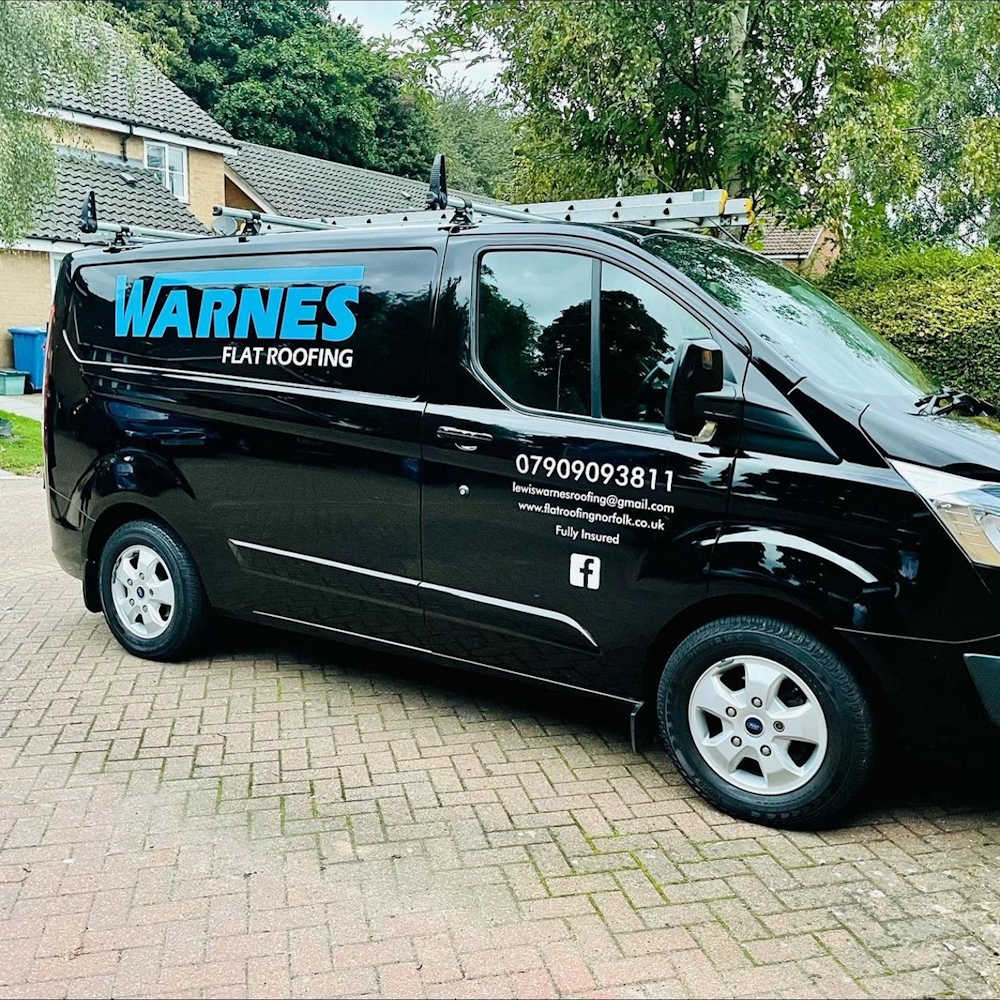 A friendly family business working in the Hellesdon and Norwich area. Warnes Flat Roofing has over 30 years experience in all types of flat roofing, re-felts, repairs, re-boarding and fascias & gutters.
Flat Roof Specialist
All Repair Work
Slating/Tiling Repairs
Single Ply Flat Roofing
Re-felting
Storm Damage Repairs
Gutters & Fascias
Gutter Cleaning
General Maintenance
Commercial and Domestic
No Obligation Free Quotes
Warnes Flat Roofing use high quality materials and we cover all of Norfolk, we are fully insured.
We are Factory Approved Installer of EPDM Rubber Roofing System
Flat Roofing
Warnes Flat Roofing specialises in flat roofing. Flat roof repairs and replacement work and, if required, re-boarding undertaken in the Norwich and Norfolk area. Whether it's a simple repair or a complete new flat roof.

Warnes Flat Roofing offer all you need at affordable competitive prices.
Felt Roofing
Mineral felt roofing is also known as torch on flat roofing or torch on felt. Torch on felt is now very popular due to the ease of installation. The new high tensile torch on felts that have taken over from the traditional mineral felt roofing systems are now so good that some manufacturers are guaranteeing their product for up to 10 years. It is also desirable as it is available in a variety of colours; green/black/brown.
Classic Bond EPDM - Fast - Simple - Trusted
Key features
Standard 1.2 mm membrane is nearly 10% thicker than leading competitors
Only EPDM with a 50 year history.
One piece sheet equals no joint..no leaks.
Heat and flame free installation-lower insurance costs.
Excellent resistance to extremes of temperature, uv and ageing.
High puncture resistance – will not tear, split or crack.
Quick and clean to install.
Choice of 1.2 mm or premium 1.5 mm thicknesses.
Maintenance free.
Environmentally friendly.
Perfect for refurbishments and new build projects.
Starpol HP Roofing
Starpol HP is a waterproofing membrane made of distilled bitumen modified with APP (Atactic polyproplylene) polymers that make it very easy to install in various climate conditions. The plastomeric compound ensures ease of application, very good adhesion as well as good resistance to UV deterioration and aging in general. When properly installed Starpol HP offers superior bonding and tightness of all joints and overlaps. The carrier is a non woven stabilized polyster which provides good mechanical characteristics, making Starpol HP an easy to install membrane of excellent resistance to static and dynamic loads.

Starpol HP is recommended as a base sheet or as a cap sheet layer in multi-layer water proofing contructions for flat, pitched or vaulted roofs, made of reinforced concrete cast on site or prefab, of terraces, under floorings etc. In case of direct exposure to weathering agents, Starpol HP shall be protected with reflective paint or by a layer of self protected (mineralised) membrane.

Starpol HP mineral can be used as a cap sheet layer without any further protective finish.
General Maintenance
Warnes Flat Roofing also carries out general maintenance and repair and replacement of fascias and guttering.
Repair work to roofs
Chimneys repointed
Storm damage repaired on all roofs
Gutters cleaned
General building maintenance
Keeping on top of repairs and maintenance can save money in the long run. Damaged pointing, chimneys or roof tiles and blocked or damaged guttering can lead to damp or even leaks. Having these issues dealt with quickly and professionally by us will prevent a small problem turning into big trouble.
Fascias & Guttering
Repairs and replacement to all gutters and fascias on any one storey buildings - bungalows/garages. Well maintained guttering will ensure that rain water is collected efficiently and directed away from the house preventing walls from becoming damp. Replacing missing or damaged guttering as soon as possible can save worry and money. Likewise well maintained fascias will not only improve the look of your home but also protect it from all that the elements throw at it.
Fascia & Soffit Replacement Services
What Are Fascia Boards And Why Are They On Our Houses?

The fascia board is the protective board that covers the ends of the timber roof joists to stop the ingress of rain or snow into the roof and wall cavity of your home. It is usually combined with a soffit to close off the gap between the felt, tiles and wall of the property. This area is also known as the eaves or roofline of a house.

In the majority of house builds the original roofline Fascia's & Soffit products are made from wood. If your home was built after 1940, it's unfortunately very likely that your roofline Fascia's & Soffits where constructed with undried timbers, made from poor-quality softwood, and unleaded paint. As a result, most rooflines require regular maintenance and repainting, usually around every four years. And with the increasing regulatory requirement for proper access equipment such as scaffolding towers, the cost of that maintenance can only increase over time. Sometimes, properties built too close together can make access to the roofline more difficult, which – along with cost concerns – tempts homeowners to defer their repairs. But that just leads to more problems further down the line.

The desire to save money by patching up the roofline, instead of replacing it, is entirely understandable. Many of our own customers felt that way. But they found that, while they could put off replacing the roofline Fascia's for a few years, the problem didn't go away. So they ended up spending twice over: once to do the job cheaply, and again to do it properly. From a long-term perspective, running repairs to an ageing roofline are a false economy.

How Do Soffits Protect The House?

Soffits are the boards that also help protect your roof space from the ingress of water. Like Fascia's they are located along the edge of the eaves to close off the gap between the tiles of the roof and the wall of the house. Post 1930 properties are generally built with either ply wood or Asbestos Soffits. There is a gap left between the wall & the back of the Soffit for air to flow in to the loft void. The other method that you will find on original soffit boards is a grill that runs through the length of the soffit again to let air in to the roof space. Should you have asbestos soffits then it is not advisable to paint them, once painted the board's flake leading to never ending maintenance of them.

Warnes Flat Roofing uses only high quality UPVc full replacement Fascias & Soffits.

We recommend installing an eaves protection system above the Fascia Board to maximise the ventilation going in to the attic.
Guttering and Downpipe Replacement Services
Shallow, blocked and damaged guttering and downpipes are the main cause of damp and water damage in homes. The complete replacement of soffits, fascia boards and bargeboards with your guttering and downpipes will release you from the need to paint and carry out maintenance every year.

Warnes Flat Roofing replace all guttering with Deep Flow guttering profiles manufactured from UPVc. The addition of gutter guards will prevent leaf build up so rain water will run free. Reducing the need for annual maintenance and removing your risk when climbing ladders to clear out blockages. Melly Warnes recommends and fits gutter guards for customers across the Norfolk region allowing them to get on with the more important things in life.
Give Warnes Flat Roofing a call for a Free No Obligation Quote.